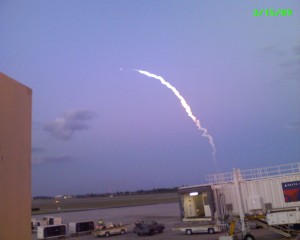 I've finally installed one of my favorite web applications, Gallery2, onto ARL.com. It will be located at http://andrewrlynch.com/photos/ . I will be updating it with pictures as I cruise around Orlando, and will eventually move my old pictures from Picasa to this platform.
The old Picasa photos are available at http://picasaweb.google.com/lurch89/.
Also, when I was flying in to Orlando, we were able to see the space shuttle lift off from the runway. After we landed we could see the flare from the rockets as it blasted off. It was quite awesome. I will be posting a picture of it as soon as I get a hold of it.
Photo credit: John Baird