Since I've now purchased a smoker, I think it's time to chronicle all the adventures with said smoker. I've been taking notes and pictures throughout the process and would like to document it here. I'll be using the "smoking" category, and I put a link on the top of the main page for quick access.
Smoker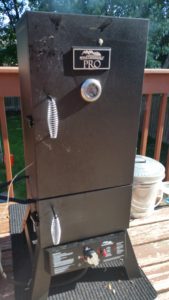 The smoker I purchased is a Masterbuilt Pro Dual Fuel Smoker, available at Home Depot. I think this may be an "exclusive" HD product, but Masterbuilt makes some very reputable hardware.
This model has 4 racks, each about 20″ x 20″. It supports both propane (how I use it) and charcoal. It has dual doors, so I can replace chips and water without disrupting the main cooking area.
I haven't discovered how many hours I get on the propane tank yet. I'm taking notes, including times when I start and stop it to get the best idea of how long a 15lb Blue Rhino tank lasts. I should get a second tank the next time they go on sale, since the smoker is using the grill's tank. The grill has been rather neglected since the smoking began.
Setup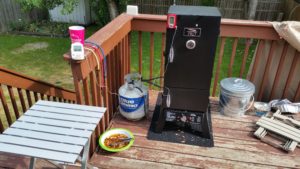 The basic setup is simply the smoker, fuel, and a table. I've added a couple nice thermometers (Taylor white one and Taylor BBQ), both of which use the same probe. I'm going to get a wireless one soon, but for now these work very well. The white Taylor has a timer and temp alarm that are nice and big. The red one is a little more difficult, but it works very well for simply showing the temp.
When I'm done with smoking, I needed a safe place to put the ashes. I chose a metal bucket I found at Wal-Mart for about $15 that does the job nicely. NO PLASTIC. Plastic will burn and start a fire. Seen too many deck fires as a result of smoking (cigarettes) materials improperly disposed in a plastic coffee can.
Why the pink princess cup you ask? It's a nice large cup that I use for replenishing the water tray. Don't judge me.
Results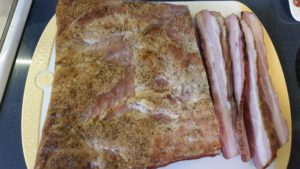 So far, so good. Everything I've put in has turned out fantastic. I'm learning a lot along the way. Smoking is not a "hey, I'll do this today" affair; it requires a lot of prep work and attention to detail. And patience. For instance, the pork shoulder I put in today will need to smoke for 8 hours. No peeking, no speeding up the process. 8 hours (or more). The bacon I made required 7 days to cure, and needed to chill after smoking. Torture, but worth it.