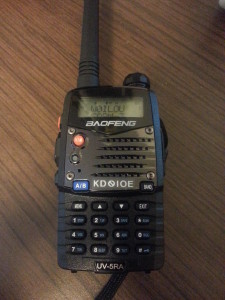 After leaping into the world of inexpensive Chinese handheld radios, I have found that given the right circumstances and some lowered expectations, you can actually find a pretty decent radio for everyday use. I recently picked up a Baofeng UV-5RA off Amazon.com for around $50 shipped (with Prime). Here is my review.
Build Quality
This radio is pretty solid. While light, it doesn't feel hollow or flimsy. There are very few "moving parts", primarily the knob for the volume/power. It has decent resistance and hasn't been fuzzy so far. The front actually has a metallic panel over the speaker, making it seem a little more rugged than the Wouxuns I've used in the past. There is a tab to attach the included hand strap, which is kind of a quirky addon for a radio, but nice if you're prone to dropping these.
Functionality
As with most Chinese radios, front panel programming is a nightmare. Save yourself the headache, get a programming cable. There is plenty of free software to program these (see CHIRP) and you'll be able to get the best experience with labels and extra switches with programming software.
There is a VFO-ish mode, but it requires a bunch of menus to get tones and modes set properly. It is a bit better than a Wouxun, in that you can easily go to VFO mode with a button press (Wouxun required menu options). However, this radio is better if you have a fixed set of channels that you use all the time. That being said, one thing the Wouxun has is a rotary encoder knob for quick flipping through channels. On this one, no knob, so be ready to memorize the channel numbers or pressing up/down a whole lot.
Reception/Transmission
Receive-wise it works pretty well. Seems to be as good as any other handheld.
I haven't actually done enough TX on this yet to make a determination. I just got it, so the review is more on first impressions than full functions.
Verdict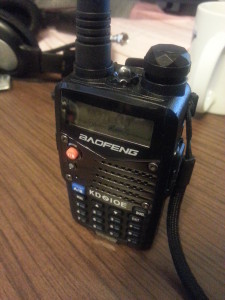 Get one. They're around $50, which is way less than some of the other ones. It does dual-band, it's Part 90 certified (so it's good for non-ham channels), and the battery life seems to be pretty good. I would suggest it for a kick-around radio or as a compliment to a cross-banded vehicle setup.