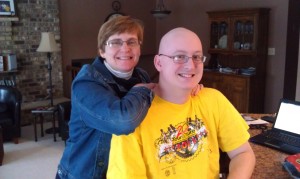 Back in November, right around Thanksgiving, I started to feel very run down and developed flu-like fevers and lower back pain. I thought it was a simple virus that would work its way out of my system, but it never did. Finally, on December 11th, 2011, I went to the walk-in clinic for severe pain and a fever.
Up until now, every walk-in visit has been either a preventative measure (physical exam) or sent home with antibiotics to fight a mild infection. I guess it makes sense to have this option, but the doctor told me that I would have to go to the hospital overnight instead of home with a prescription. My white blood cell count (WBC) was over 4x normal, and there were a couple options. I could (a) have a severe infection and need IV antibiotics, (b) having complications due to the pilonidal cyst that had developed and hurt, or (c) leukemia. I initially discouraged the cancer diagnosis, thinking it was a worst case scenario that was possible but not probable.
The next day at the hospital, after spending an unpleasant evening of doctors poking the one painful spot on my body trying to determine how to proceed, I was told that I did in fact have leukemia, a rather aggressive form, and that I would be undergoing chemotherapy as soon as possible. They also had to address the cyst before they could begin chemo.
There is no doubt that this is a life-changing event. Up until now, my medical history could fit in a small binder. Now every time I go to the hospital for chemotherapy, they have to use a 3″ binder to hold all the charts and forms for my treatment. I also now live with a Hickman catheter, which has some advantages and disadvantages. Prior to December 11th, I didn't know what a Hickman was, what NPO meant, or the difference between general anesthetic and sedation. I didn't know that they made a man-purse-sized Wound VAC for portable use. Heck, I didn't even know what a wound VAC was.
My family and I have gone through some very tough days in the past nearly three months. But even with all the procedures and paperwork and puking, the good days still outnumber the bad. I thank my family and friends for sticking by me and being the best damn cheering section around. There is absolutely no way I would be here writing this out if it weren't for all the cards and well wishes on CaringBridge and visits and prayers and support.
This week, the plan is to be re-admitted for my third round of chemotherapy. The past two weeks I have been able to get some sense of normalcy back into my life. I spent a good amount of time at my own apartment (last time between hospital stays I was at my parents with only a couple visits to my own apartment). I was able to get some projects worked on and clean up my space so the dusting will be easier the next time I get out. It was quite thick from two months of neglect.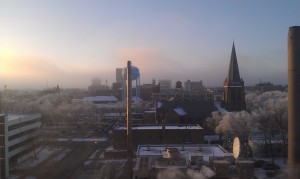 I hope to update and post again after the final round of chemo, when hopefully I will be done with hospital stays for a while and just have scheduled clinic visits. It is hard some days to sit down and type out how I feel. This morning I happen to be on NPO (non per os, no food/drink by mouth) so I can't have breakfast (not that I usually do) or even a drink of water until I get to the clinic and they decide what procedures they will be doing.
Now, some information that has been posted other places, but I thought I'd really quick aggregate it.
1.) CaringBridge – this site is updated daily-ish by my parents on my status. It is the most up-to-date news on my treatment. http://caringbridge.org/visit/andrewlynch
2.) IWillBeatThis.com – Site set up by my co-workers to coordinate benefit efforts. This includes a benefit event that is being developed. More information regarding that, including an online donation system, will be posted on IWillBeatThis.com.
3.) This site – I haven't been very good about updating this site while I'm in the hospital. I always have the best of intentions, but never get around to it. I will try and post something here, so follow if you like. There is also a Donate button in the right column if you so choose.
4.) Benefit fund – There is a benefit fund established at State Bank & Trust in Fargo. This fund is for helping with medical bills and other care costs. You can make checks payable to "Andrew Lynch Benefit Fund", 3100 13th Avenue S, Fargo, ND 58103.